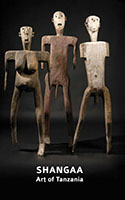 SHANGAA
Edited by Gary Van Wyk
QCC Art Galley Press, 2013
The accompanying publication, edited by Dr. Gary van Wyk, includes contributions by 10 leading scholars of Tanzanian art from the United States, Tanzania, South Africa, and Germany, who draw on fresh research. The 342-page book is lavishly illustrated with the art works on exhibition and in other collections, along with both archival images and contemporary photographs of art practices. It includes a comprehensive index and bibliography, and promises to be an indispensable contribution to the field of African Art.